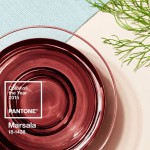 Inspired by Pantone and The Meridien Design Group:
---
PANTONE 18-1438 Marsala
"Much like the fortified wine that gives Marsala its name, this robust shade incorporates the warmth and richness of a tastefully fulfilling meal, while its grounding red-brown roots point to a sophisticated, natural earthiness."
Leatrice Eiseman, Executive Director, Pantone Color Institute®
"Due to the underlying brown tones in the color, it works very well with neutrals, animal prints, golds and warm tones."
Marie Wood, Director of Design, Meridien
But because it is also a form of red, it can also contrast nicely against cool colors as well and be used as an accent color.
"It is a very versatile color.  Sensual and bold, delicious Marsala is a daringly inviting tone that nurtures; exuding confidence and stability while feeding the body, mind and soul" Pantone
How will you be using Marsala?
Meridien has been a leading international sales and logistics company specializing in American home furnishings products for more than 20 years. In addition to acting as the international sales representative for a number of leading brands, Meridien offers a unique range of related services including interior design, visual merchandising, banking and finance, transportation, consolidation, and project execution. The home office is located in Wilmington, NC, USA with branch offices in Moscow, Lima, Dubai, Hong Kong, Firenze, Olsztyn and Taipei.  Click here to learn more about Meridien
Is Meridien a good fit for your global business or project?  Click here so we can learn more about you
Want to know more about The Meridien Design Group? Click here