A 'Lovely Night for Dancing' is the stunning painting by Alabama artist Bonnie Fuchs that is the backdrop for this cool, chic vignette.This neutral canvas exhibits tonal drips of whites, browns and gold with a high gloss vitreous finish.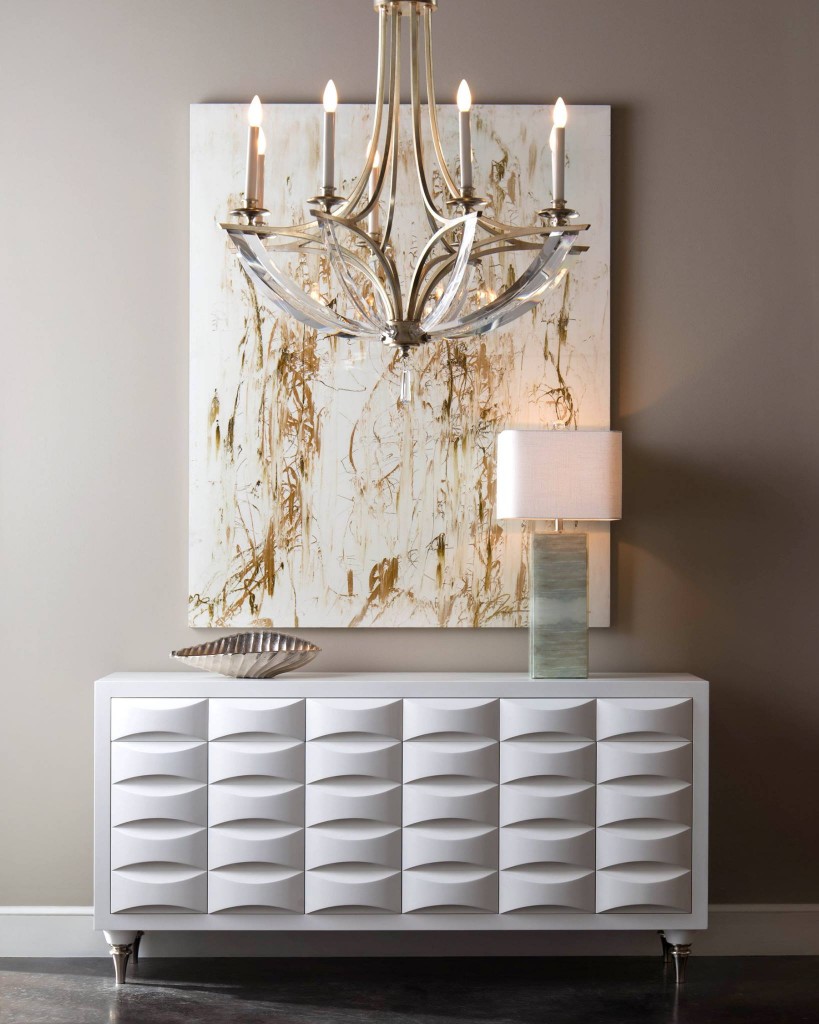 The graphically inspired 'Beluga Cabinet' is designed by Mark McDowell for John-Richard. Formed from thirty convex pillows, this sideboard has three soft closing drawers over six doors. The handleis undercut into the underside of each pillow.
Atop the cabinet is a beautifully simplified bailer shell with gold foil adding depth to the inside, contrasting with the polished nickel outer shell. The Ocean Table Lamp features an ocean painted on canvas encapsulated in a block of acrylic. The chandelier is a five light bent crystal and steel chandelier.
Click on any image to learn more about these newest High Point Market Intros
Contact Your Sales Team today for more Information on John-Richard
Meridien has been a leading international sales and logistics company specializing in American home furnishings products for more than 20 years. In addition to acting as the international sales representative for a number of leading brands, Meridien offers a unique range of related services including interior design, visual merchandising, banking and finance, transportation, consolidation, and project execution. The home office is located in Wilmington, NC, USA with branch offices in Moscow, Lima, Dubai, Firenze, Olsztyn, Taipei and Hong Kong.  Click here to learn more about Meridien
Is Meridien a good fit for your global business or project?  Click here so we can learn more about you.