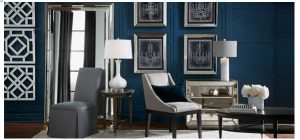 A mesmerizing mix of thoroughly modern and Hollywood glam styling, this sitting room features both feminine and masculine Bassett Mirror Company furniture and accents that blend beautifully creating a luxurious, lavish lounge.
Bassett Mirror Trend Report-Mixing and matching is back in style, and it doesn't really matter what materials are mingling as long as they are complementary. Forget choosing a single pattern or color for every room – now is the time to have it all. We'll show you how to mix up your home no matter what décor fits your personality!
Go Bold or Go Home
Color is the spice of life, and right now, vibrant hues are hot, hot, hot! One of the best ways to go bold is with electrifying paint colors for your walls or ceiling. To create a look that's both fiery and fierce, don't shy away from bright colors and eye-catching textures. We know painting your walls a vivacious color can be a frightening feat, but if you listen to your gut instinct and pick colors that reflect your inner style, there's no way you can fail! In this striking setting by Design Manifest's Naomi Stein, dramatic, brilliant blue sets the tone for the space while vivid accents in red and pink adds a punchy pop of color that's creative and captivating.
Pillows, Patterns & Palettes – Oh My!
Accenting with varying hues and patterns can be a daunting task, but the risk is well worth the reward. The key to pulling off this colorful concoction is not shying away from bold combinations of vibrant shades and daring patterns. If your space is crying out for a burst of energy and spunk, mix eye-catching designs in vivacious colors with neutral solids. Keep your color scheme limited to three or four main hues to avoid overwhelming the space. In this striking space by Hi Sugarplum, the electric blue tribal print bench compliments the eccentric, brightly colored rug and floral accent pillow while the off-white pillow, blanket and walls keep the design from overpowering the space. The mesmerizing shades of blue, pink and yellow ultimately tie the unconventional patterns together making the room pop.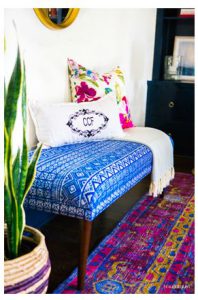 You Really Can Have It All
Can't decide whether to design with a modern, rustic or traditional theme? Now you don't have to choose – you can have it all! The days of matchy-matchy décor are long gone and the latest design craze is a magical mix of many styles. Think outside the box and add elements with features from a variety of design themes. Whether it's a delightful blend of Belgian Luxe and Hollywood Glam, an amazing assortment of Old World and Thoroughly Modern or a chic combo of Pan Pacific and Hollywood Glam, Bassett Mirror Company has you covered!