Blog Post by American Society of Interior Designers
Were you able to attend last month's High Point Market?
At 11,500,000 square feet of show space, High Point Market is the largest furniture trade show in the world, taking place twice a year in High Point, North Carolina. For one week every October and again in April, buyers and top interior designers from around the globe come together to view the latest trends in furniture and home decor. In case you were unable to attend, here are a few of my observations:
Color
This season saw a plethora of rich, regal colors. Ruby red was represented at every turn, with jewel tones such as aubergine, saturated citrine, and dark teal as complements.
Textiles and Prints
Large-scale geometric and floral prints and patterns were spotted throughout market. Rich velvets and laser-cut metallic or embossed leather were also seen in several key showrooms. Quilting has continued to evolve and is no longer limited to simple, geometric shapes; instead, it is now seen with more intricate "faux bois" patterns. Tufting is still seen, but like quilting, it is evolving and is not limited to traditional English button tufting. A plusher, deeper channel tufting was seen in several showrooms and shows a more modern approach.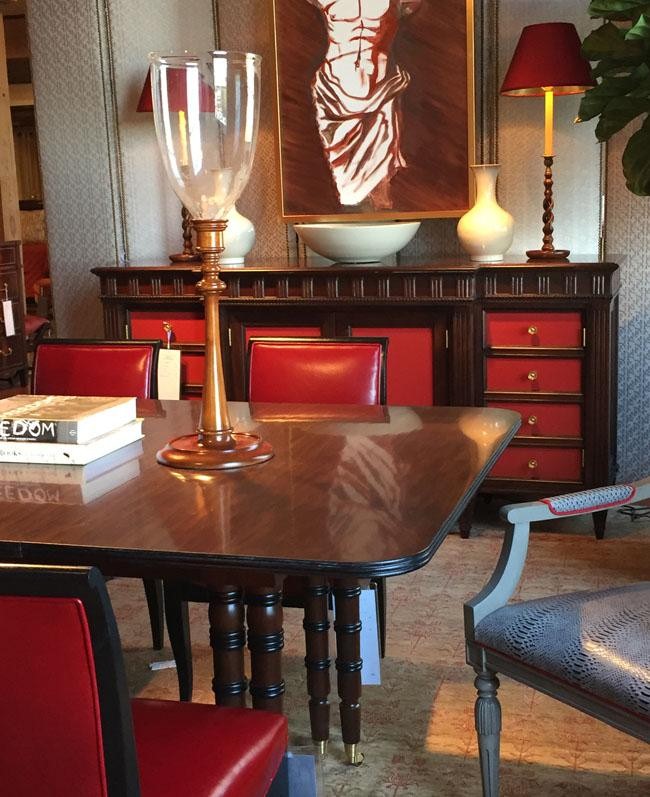 For her collection for
Hickory Chair
, Alexa Hampton utilized all shades of red,ranging from ruby to pomegranate.
Blending of Furniture Periods and Styles
Taking something familiar and infusing it with modern styling is a great way to breathe new life into styles we know and love.
Metal Finishes
Brass continues to be the hot metal of choice at High Point Market, but new metal finishes are constantly being introduced. Copper, seen earlier this year at the New York and Los Angeles shows, arrived at High Point in October.
In addition, blackened steel and oxidized brass finishes were seen throughout — perhaps in response to the revival of Brutalism, a controversial architectural movement that prospered in the 1950s, 1960s and 1970s and is characterized by modular elements, as well as rough, unfinished materials and an expression of handmade craft.
A true statement piece that caught just about everyone's eye was the Marilyn Acrylic Chair from Global Views. While perhaps not for every consumer, this Louis XVI chair with fluted legs (available with or without arms) was crafted in Lucite but in the same shape as it was back in the day. Expect to see this chair everywhere.
 Wall Art and Murals
A big emphasis was placed on wall art, wallpaper, and wall murals at High Point. With all the advances in technology and digital printing, we will be seeing more and more as production time gets faster, costs decrease, and the product becomes more accessible to the masses.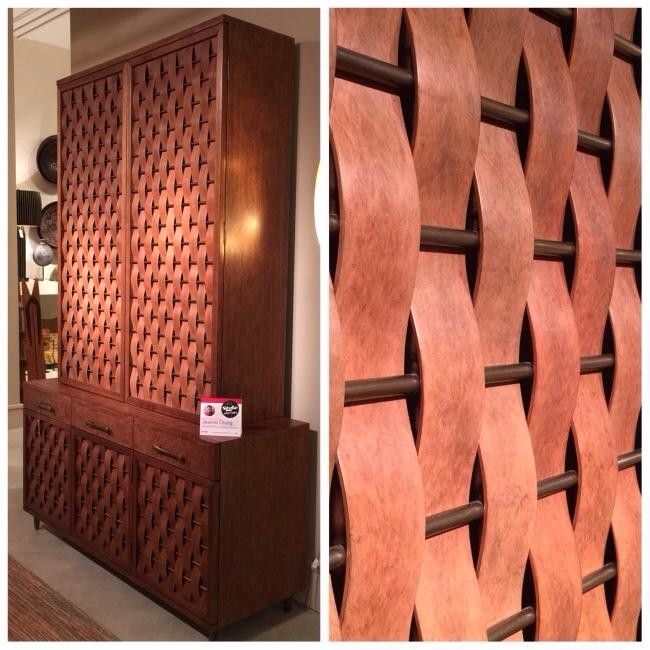 The Brentwood TV cabinet by
Studio A
featured a large-scale woven wood that gives the surface depth and texture.
Large-Scale Texture
Many of the surfaces on casegoods and upholstery incorporated large-scale, exaggerated texture.
Feathers
Feathers have been trending on the runway, so naturally it popped up everywhere at High Point. Feathers were seen in casegoods, wall art, lighting and accessories, and I also the saw the occasional taxidermied peacock.
The influence of the feather is so strong that Jonathan Charles devoted an entire collection to it, the aptly named "Icarus Collection." Hardware was fashioned to look like wings, wood legs were carved in the shape of wings, and wood veneer techniques were used to create the illusion of wings on the surface of casegoods.
About the Author

Jeanne Chung started her interior design business and blog Cozy•Stylish•Chic in 2013 in Pasadena, California. She is the trend and product moderator for the popular G+ Interior Design Community and was one of nine official style spotters for High Point Market for 2014. Jeanne has lived in Singapore and Indonesia, and her exposure to these cultures shapes what influences her today — color, details and exotic embellishments.